Andrew E Walton
age ~53
from Salt Lake City, UT
Also known as:

Andrew Eric Walton
Andrew Walton
Andy Eric Walton
Andy Walton
Andrew Waslton
Mary Pratt
Andrew Walton Phones & Addresses
Salt Lake City, UT

1439 Detroit St,

Denver, CO 80206

Ann Arbor, MI

Los Angeles, CA

Washington, DC

Encino, CA

Beverly Hills, CA

Venice, CA

Toluca Lake, CA
Work
Company:

Boy scouts of america

2010

Position:

Assistance baseball coach
Education
School / High School:

South Texas College of Law- Houston, TX

May 2013

Specialities:

Juris Doctor
Name / Title
Company / Classification
Phones & Addresses
Andrew Walton
Akila Models
Modeling & Talent Agencies
310 - 10359 82 Ave, Edmonton, AB T6E 1Z9
(587)5234627
Andrew Walton
Religious Leader
Capitol Hill Presbyterian Chr
Religious Organizations
201 4Th St Se, Washington, DC 20003
Website:
capitolhillpreschurch.org
Andrew J. Walton
Principal
Kandi, LLC
Nonclassifiable Establishments
1247 Sophia Cir, Salt Lake City, UT 84123
Alexandria City School District
Elementary/Secondary School
3801 W Braddock Rd, Alexandria, VA 22302
(703)8246750
Andrew Walton
Religious Leader
Capitol Hill Presbyterian Chr
Churches · Religious Organization
201 4 St SE, Washington, DC 20003
(202)5478676, (202)5472182
Andrew Walton
Akila Models
Modeling & Talent Agencies
(587)5234627
Andrew Walton
WALTON WEB DEVELOPMENT, LLC
Andrew Walton
MADCOM INTERACTIVE, LLC
Wikipedia References Andrew Walton
About:
Born:
28 February 1965 • Zimbabwe
Work:
These came against the Worcestershire Cricket Board, the Warwickshire Cricket Board and Hampshire County Cricket Club, all in the 2000 NatWest Trophy.
Education:
Walton represented the Kent Cricket Board in 3 List A cricket matches..
Skills & Activities:
Ascribed status:
British of Zimbabwean descent
Sport:
English cricket player
Activity:
Bowling • Cricket
Resumes
Work:
Project Open Cannibal - Virtual since Jan 2012
Lead Developer
Barrister Global Services Network May 2012 - Sep 2012
Contract IT services
Nationstar Mortgage - Aurora, CO Jun 2012 - Jun 2012
Lead Technician
Pearson eCollege - Centennial, CO Dec 2011 - Jan 2012
Helpdesk Technician
AMC Highlands Ranch 24 Dec 2007 - Oct 2008
Film Crew
Education:
LeaderQuest 2009 - 2010

Skills:
Troubleshooting
Windows 7
Networking
Help Desk Support
Computer Hardware
Operating Systems
Servers
Active Directory
Windows Server
Windows
Software Installation
Sql
Html
Java
Microsoft Sql Server
Technical Support
It Service Management
System Administration
Network Administration
Printers
Vmware
Android
Customer Service
Microsoft Office
Dns
Windows Xp
Microsoft Excel
Team Leadership
Leadership
Interests:
Networking
Cooking
Civil Rights and Social Action
Software Development
Science and Technology
Human Rights
Arts and Culture
Certifications:
Comptia A+
Comptia Network+
Comptia
Work:
ImaginationInnovation since Mar 2009
Network Security Analyst, Network Engineer
Education:
LeaderQuest 2010 - 2010
MCTS Certification, Computer Science LeaderQuest 2009 - 2009
A+ Certification, Computer Science
Interests:
Networking
Programming
Skating
Cooking
Windows Server
See Less
Wireless
Server
Linux
See 3
Microsoft
Bsd
Windows
Mac
Iphone
Location:
Greater Denver Area
Industry:
Commercial Real Estate
Work:
Boy Scouts of America

2010 to 2000
Assistance Baseball Coach MEMBERSHIP

2010 to 2000
President Boy Scouts of America

2005 to 2000
Eagle Scout Zion's Bancorporation
Houston, TX
May 2012 to May 2013
Legal Intern, Corporate Contracts Administrator South Texas College of Law
Houston, TX
Aug 2011 to May 2013
Senior Student Teacher New Quest Properties
Houston, TX
Jun 2011 to Aug 2011
Corporate Legal Intern State Bank of Southern Utah
Cedar City, UT
2007 to 2010
Loan and Fraud Analyst State Bank of Southern Utah
Cedar City, UT
2008 to 2009
Graduate Teaching/Research Assistant State Bank of Southern Utah
Cedar City, UT
2008 to 2009
Graduate Consultant State Bank of Southern Utah
Cedar City, UT
2007 to 2008
Student Southern Utah University Student Association

2007 to 2008
Business Senator Church of Jesus Christ of Latter Day Saints

2003 to 2005
Volunteer Religious Missionary
Education:
South Texas College of Law
Houston, TX
May 2013
Juris Doctor Southern Utah University
Cedar City, UT
2013 Georgetown University Law Center
Washington, DC
LL.M. in International Business and Economics
Amazon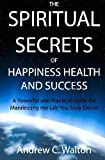 The Spiritual Secrets of Happiness Health and Success: A Powerful and Practical Guide for Manifesting the Life You Truly Desire
view source
---
** THE SPIRITUAL SECRETS OF HAPPINESS HEALTH & SUCCESS **... When YOU discover these astonishing Secrets you will immediately start gaining the essential Spiritual Power to effectively and quickly manifest into being the wonderful life you have always dreamed of . You will join the growing few with ...
---
Publisher
CreateSpace Independent Publishing Platform
Flickr
Myspace
Googleplus
News
Youtube
Facebook
Plaxo
Classmates
---
Get Report

for Andrew E Walton from Salt Lake City, UT, age ~53